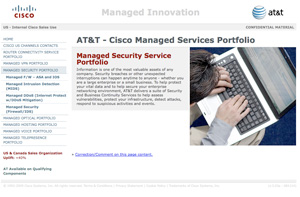 Cisco and AT&T partner on many fronts, and to assist both sales teams to stay informed of the joint managed services offered, Pinion Media developed this mash-up portal. It contains a complete, up-to-date reference of Cisco managed services offered jointly by AT&T.
In April 2009, Pinion Media globalized the initial portal to filter and house the appropriate services for a "Most of World" version of the portal mash-up.
For access assistance (walk through demo), please contact Pinion Media.
URL: http://www.ciscoattmsinfo.com
Developer: Tim Durham (Pinion Media)